Enjoy the most

awesome collaboration 

containing the most

awesome stuff

we've ever shared with you!
---
… how are we gonna ensure that happens?
In Streamloots, we have decided to take this step further and liste to what people have been asking for two years: exclusive swag for our most special streamers.
We've been thinking about it and have started a collaboration with 1nf1n1te, a new gaming sneakers company that has prepared an awesome design exclusive for us and for you too.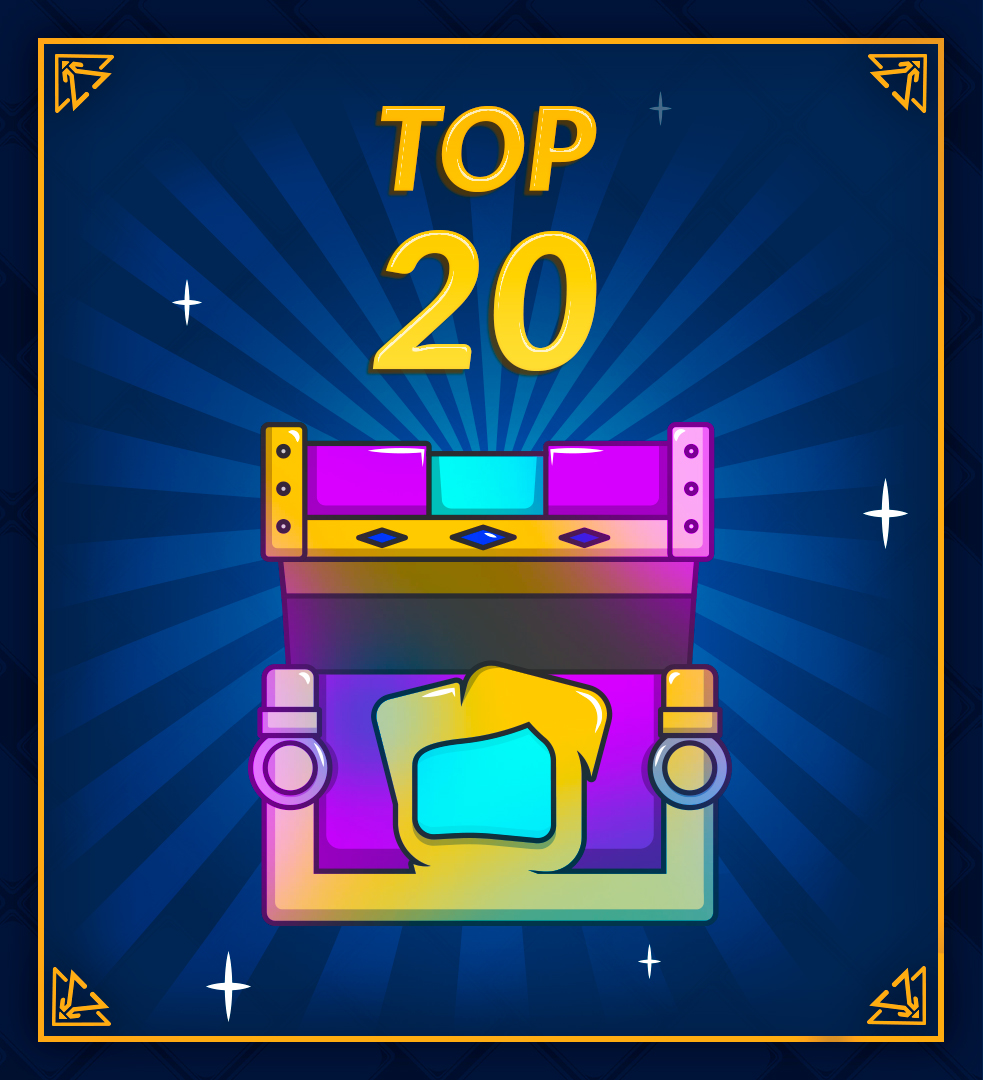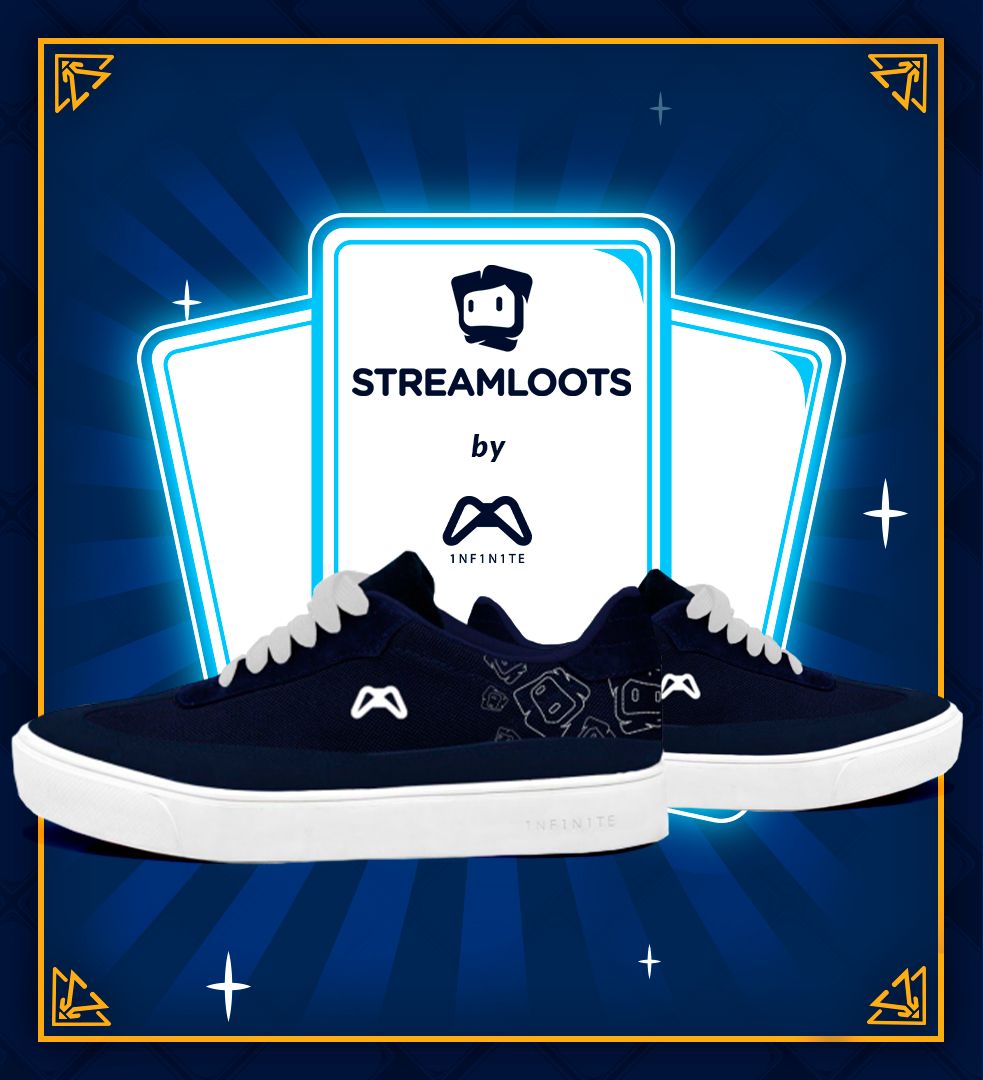 How to get them
You will need your referral code (which you can find in your dashboard at the website. It's really that simple, you got this!)
Time to share! We're gonna give the sneakers to the winners of an awesome and exclusive competition: you have until january 31th to get as much streamers as you can to join using your referral code: Show us who's the real influencer out there.
EZPZ Lemon squeezy
The top 20 of the competition will get this cool pair of beauties to be the most exclusive streamers in the platform.
Go for it, cowboys and cowgirls, let's show who's the real influencer out there.
Some tips to improve your participation
If you have a youtube channel, it's a good idea to make a video about Streamloots as a platform. Other streamers will be able to watch the video and register through your referral link that way.

Videos can be used in twitter and instagram stories too, remember that every streamer that follows you is able to get into Streamloots

Post it in social media: c'mon, you really needed this tip?

Is natural to have other streamers watching your streams. Remember to talk about this referral program while you're live too!
Referral program conditions

Remember that you can get your referral link in your dashboard at the website. In order to see it you will need to complete the Onboarding in case you didn't yet.
How to start earning money? Copy the link, share it with your friends, social networks, streamer groups, Discord, Telegram, etc. They can get 10€ if they meet the conditions.

With the Streamloots referral program, every time you invite a streamer to our platform and they sell 5 chests or more you both will get 10€. The amount will be added to your balance if the streamer who has been invited meets all the following conditions:

        The new streamer must sign up using your referral link.
        The new streamer must sell at least 5 chests.
        The new streamer must announce that his/her Streamloots collection is live.
        The new streamer must stream 8 hours a week minimum with an average of at least 5 viewers in the last month.

Once we verify that these requirements are met, the money will be added to your balance within 3 days.
TOP CURRENT STREAMER REFERRERS
** Remember that the streamer you have referred needs to meet certain conditions, only the "achieved" ones count for the contest. If you appear on the list, it is because you have registered users and that's a great step. There is only one step left, help your friends with their collections so they can sell their first chests!
** The ranking is updated one time per day. Last Update 1st February 2020
| | | |
| --- | --- | --- |
| Username | Achieved Referred | Registered Referred |
| dre3286 | 1 | 15 |
| jessykperez2 | 1 | 8 |
| samaelv4 | 1 | 3 |
| willoss | 1 | 3 |
| devilswrath | 1 | 2 |
| switch4days | 1 | 1 |
| guillebyxxyt | 0 | 1012 |
| ramonaporcelana | 0 | 61 |
| juanitomodz93 | 0 | 36 |
| thezealteam | 0 | 33 |
| pheoris | 0 | 32 |
| sugarlipcandies | 0 | 29 |
| perigameryt | 0 | 27 |
| gassymexican | 0 | 20 |
| bl3ssur | 0 | 18 |
| fawzz_tv | 0 | 18 |
| haylinic | 0 | 18 |
| lectermania | 0 | 15 |
| mrherrera | 0 | 13 |
| munchkindoom | 0 | 13 |
| successfulgeezer | 0 | 9 |
| cacaotv | 0 | 9 |
| hiddenhumanity | 0 | 9 |
| panaticogamer | 0 | 9 |
| ggalextheplayer | 0 | 8 |
| deadpiratebrandon | 0 | 8 |
| delcerro08 | 0 | 8 |
| kyledempsterstudios | 0 | 8 |
| zuideagua | 0 | 8 |
| thedaniomg | 0 | 7 |
| losfrakasaurios | 0 | 7 |
| leobu28 | 0 | 7 |
| slurpaglurp | 0 | 7 |
| laurygodiva | 0 | 6 |
| chemotizidaplays | 0 | 6 |
| viitto69 | 0 | 6 |
| byaaron | 0 | 5 |
| bardku300 | 0 | 5 |
| dmanstudios | 0 | 5 |
| dangar06 | 0 | 5 |
| kmzkamikaze | 0 | 5 |
| nikachuray | 0 | 5 |
| santiagopro780 | 0 | 5 |
| cowmasutra | 0 | 5 |
| airontwitch | 0 | 4 |
| anuchis | 0 | 4 |
| pghosted | 0 | 4 |
| mrbradprime | 0 | 4 |
| krakenexperience | 0 | 4 |
| christophroar | 0 | 4 |
| beernymph | 0 | 4 |
| cesc | 0 | 4 |
| jonnysblazin | 0 | 4 |
| thefluffymarshmallow | 0 | 4 |
| jennitaw | 0 | 4 |
| julichelo | 0 | 4 |
| elcompalol | 0 | 4 |
| pandih | 0 | 4 |
| clo4er | 0 | 4 |
| official_polramen | 0 | 4 |
| player_0 | 0 | 4 |
| picogamer1 | 0 | 3 |
| maxxriser991 | 0 | 3 |
| captain_grave | 0 | 3 |
| carlos1112 | 0 | 3 |
| crispincc1 | 0 | 3 |
| d4ddy-lild4rk | 0 | 3 |
| danigamer93_yt | 0 | 3 |
| zero7 | 0 | 3 |
| oscaralexy24 | 0 | 3 |
| gaabeeh22 | 0 | 3 |
| mzbhavnn | 0 | 3 |
| laparrillaamericana | 0 | 3 |
| clooo | 0 | 3 |
| myzuzu | 0 | 3 |
| marioruso_04 | 0 | 3 |
| xwz07 | 0 | 3 |
| nachoberk2411 | 0 | 3 |
| rubenmatamorosrodriguez | 0 | 3 |
| rosiki | 0 | 3 |
| foxy25 | 0 | 3 |
| xodam | 0 | 3 |
| shadowvalerin | 0 | 3 |
| elzumos | 0 | 3 |
| abel_325 | 0 | 2 |
| alejandrocastanedacardona | 0 | 2 |
| alexgomes | 0 | 2 |
| butrulplay | 0 | 2 |
| wha_tguy | 0 | 2 |
| black_bandit | 0 | 2 |
| zeroxsendo | 0 | 2 |
| lawmanrambo | 0 | 2 |
| eixit_game | 0 | 2 |
| xkasuna | 0 | 2 |
| dammitrooster | 0 | 2 |
| donoproman | 0 | 2 |
| 1dracko | 0 | 2 |
| amoaluordes87 | 0 | 2 |
| elliebe | 0 | 2 |
| extrem | 0 | 2 |
| bloox | 0 | 2 |
| hugopeligro | 0 | 2 |
| ninoreign | 0 | 2 |
| gordoseze | 0 | 2 |
| mafyta | 0 | 2 |
| gameshow45 | 0 | 2 |
| elovejo | 0 | 2 |
| itsmenavarrete | 0 | 2 |
| samurai_pat | 0 | 2 |
| naldodollartv | 0 | 2 |
| dearbird | 0 | 2 |
| nekitajes | 0 | 2 |
| ngryoam | 0 | 2 |
| oscarlpsnt | 0 | 2 |
| dranprox | 0 | 2 |
| itspauyt | 0 | 2 |
| rugaz | 0 | 2 |
| sininchi18 | 0 | 2 |
| preciouskalamity | 0 | 2 |
| shinyredrobot | 0 | 2 |
| djreus10 | 0 | 2 |
| reminton94 | 0 | 2 |
| richrg | 0 | 2 |
| volldehd | 0 | 2 |
| safedigo12813 | 0 | 2 |
| stellonetm | 0 | 2 |
| mrviper21 | 0 | 2 |
| elgamee | 0 | 2 |
| futbolnews | 0 | 2 |
| parth1c | 0 | 2 |
| tito_bomba | 0 | 2 |
| ulises_azari | 0 | 2 |
| vahri | 0 | 2 |
| tuviejamilf | 0 | 2 |
| thefazeyt | 0 | 2 |
| foxy_avengervv | 0 | 2 |
| aplatanao | 0 | 1 |
| th0lf | 0 | 1 |
| adsnipers | 0 | 1 |
| bankay | 0 | 1 |
| theakino | 0 | 1 |
| scarpycosplay | 0 | 1 |
| gavi1423 | 0 | 1 |
| midnightraynor | 0 | 1 |
| phantom_alek | 0 | 1 |
| fitoyt | 0 | 1 |
| alwaysca | 0 | 1 |
| elpatroonn69 | 0 | 1 |
| ravenmonocle | 0 | 1 |
| arimy | 0 | 1 |
| miha06061 | 0 | 1 |
| arturoreysoto | 0 | 1 |
| bakedchicken90 | 0 | 1 |
| bandarro | 0 | 1 |
| barbiiesun | 0 | 1 |
| trussy_ | 0 | 1 |
| bgamerz4 | 0 | 1 |
| jbickz | 0 | 1 |
| boladedan | 0 | 1 |
| boogiepop_sama | 0 | 1 |
| bossybox | 0 | 1 |
| brilliantbuffoons | 0 | 1 |
| bytitos | 0 | 1 |
| lemakii | 0 | 1 |
| capi | 0 | 1 |
| immrfroggy | 0 | 1 |
| carhiphd | 0 | 1 |
| daniecae | 0 | 1 |
| santino211 | 0 | 1 |
| chorlyid2 | 0 | 1 |
| itzkrizzyt | 0 | 1 |
| colombiagamer | 0 | 1 |
| cocter23 | 0 | 1 |
| cristiankunxd | 0 | 1 |
| themaximilian23 | 0 | 1 |
| randomfunk | 0 | 1 |
| danimed12_yt | 0 | 1 |
| xdanii_s8 | 0 | 1 |
| dannaplay1 | 0 | 1 |
| darkfirecat06 | 0 | 1 |
| tiesrcool | 0 | 1 |
| elrubiuswtf | 0 | 1 |
| davidvc97 | 0 | 1 |
| davidcrazy21 | 0 | 1 |
| davyzmillan | 0 | 1 |
| deathbuffon1 | 0 | 1 |
| demian14 | 0 | 1 |
| akka_denishh43 | 0 | 1 |
| elmundodecristian | 0 | 1 |
| gogue_gamer | 0 | 1 |
| shamantv | 0 | 1 |
| cultur_ | 0 | 1 |
| thekingdbd | 0 | 1 |
| driuvid | 0 | 1 |
| droopys033 | 0 | 1 |
| edhus78 | 0 | 1 |
| felix0208 | 0 | 1 |
| tsm_hector10 | 0 | 1 |
| therssolo | 0 | 1 |
| theemser | 0 | 1 |
| laguilar | 0 | 1 |
| elwalas90 | 0 | 1 |
| fuffu24 | 0 | 1 |
| krakensitoo | 0 | 1 |
| sacumix | 0 | 1 |
| fransolerescobar | 0 | 1 |
| cryptotrippin | 0 | 1 |
| corigameplays | 0 | 1 |
| crackpost10 | 0 | 1 |
| xxdjesusxx | 0 | 1 |
| itzgenis | 0 | 1 |
| kalorelai | 0 | 1 |
| djxdyolo | 0 | 1 |
| panteranegra23 | 0 | 1 |
| joohnc93 | 0 | 1 |
| imitzu | 0 | 1 |
| guslagunasot | 0 | 1 |
| headshot_z_ | 0 | 1 |
| hokogamer | 0 | 1 |
| platerscot | 0 | 1 |
| widexgames | 0 | 1 |
| nuk3sito | 0 | 1 |
| taisac28 | 0 | 1 |
| scouttlb | 0 | 1 |
| plague- | 0 | 1 |
| monfortes | 0 | 1 |
| titobombi | 0 | 1 |
| j_perseverance | 0 | 1 |
| yeikofive | 0 | 1 |
| mvpjavichu | 0 | 1 |
| javimaxyt | 0 | 1 |
| jglive17 | 0 | 1 |
| spectrexero | 0 | 1 |
| twitch_lagagamer | 0 | 1 |
| voidedoath | 0 | 1 |
| m4drig4l | 0 | 1 |
| redbeardedjoe | 0 | 1 |
| jose445 | 0 | 1 |
| frugalgamer | 0 | 1 |
| goldclan | 0 | 1 |
| zakiviral | 0 | 1 |
| padoja | 0 | 1 |
| lloydpro | 0 | 1 |
| jurexgamer | 0 | 1 |
| shadowdie | 0 | 1 |
| caiivk191 | 0 | 1 |
| dani1903kdrt | 0 | 1 |
| kevinchukasdt | 0 | 1 |
| mrzrinon | 0 | 1 |
| liiryn | 0 | 1 |
| xx_inviicta_xx | 0 | 1 |
| lachicagamer2020 | 0 | 1 |
| lasupersory | 0 | 1 |
| bloodreapergaming | 0 | 1 |
| lemontrainer | 0 | 1 |
| lil_chilean | 0 | 1 |
| locotoco19 | 0 | 1 |
| fabrilolhd | 0 | 1 |
| thelolok45 | 0 | 1 |
| yukirito2014 | 0 | 1 |
| luk3playz | 0 | 1 |
| hashaholik | 0 | 1 |
| maddoggrogan | 0 | 1 |
| joseenmanuel23321 | 0 | 1 |
| nodgame | 0 | 1 |
| legendspropablo | 0 | 1 |
| kingcultura | 0 | 1 |
| master_of_chaos1 | 0 | 1 |
| alanmauricio | 0 | 1 |
| solarmac | 0 | 1 |
| dmolp_3100 | 0 | 1 |
| retroranger | 0 | 1 |
| gamedax209 | 0 | 1 |
| raykanmms | 0 | 1 |
| monbonwonton | 0 | 1 |
| g3ox | 0 | 1 |
| mrwilldeal | 0 | 1 |
| nezumiimi | 0 | 1 |
| malvarez_17 | 0 | 1 |
| nicolasgamertwitch | 0 | 1 |
| s1lentr1fleman | 0 | 1 |
| pablo_pro_77 | 0 | 1 |
| aiemiko | 0 | 1 |
| paradoxwolfy | 0 | 1 |
| peachiibi | 0 | 1 |
| peher-drope | 0 | 1 |
| pendiente212_ | 0 | 1 |
| bymanuel331 | 0 | 1 |
| perfect_x_garra | 0 | 1 |
| pinguvictorm | 0 | 1 |
| andresmanrique | 0 | 1 |
| froostyyt | 0 | 1 |
| rafacarrasco | 0 | 1 |
| rafagt | 0 | 1 |
| smilyxx | 0 | 1 |
| raul_stk | 0 | 1 |
| raul_vidal | 0 | 1 |
| ricky598yt | 0 | 1 |
| theluck18 | 0 | 1 |
| hashtagbercun | 0 | 1 |
| rublor | 0 | 1 |
| dark_trueno205 | 0 | 1 |
| theiconicgamer_ | 0 | 1 |
| bunerex | 0 | 1 |
| ecatrix | 0 | 1 |
| klozzy | 0 | 1 |
| samuelrochaes | 0 | 1 |
| nolinedyt | 0 | 1 |
| supermanrasta28 | 0 | 1 |
| elaticisstreaming | 0 | 1 |
| snaitbraveheart | 0 | 1 |
| shockbarraza | 0 | 1 |
| xcprxwhitebox | 0 | 1 |
| snafupineapple | 0 | 1 |
| lumin20177 | 0 | 1 |
| amaite | 0 | 1 |
| drachearce | 0 | 1 |
| xspectroo | 0 | 1 |
| ztaysavagez | 0 | 1 |
| kachetonn | 0 | 1 |
| thecham2015 | 0 | 1 |
| lobitogamer | 0 | 1 |
| baintrax | 0 | 1 |
| nyryshiro | 0 | 1 |
| toreton_57 | 0 | 1 |
| mrllama | 0 | 1 |
| tydetyme | 0 | 1 |
| perceblando | 0 | 1 |
| veger7312 | 0 | 1 |
| dominikrd | 0 | 1 |
| franchu_men | 0 | 1 |
| xinfiinity | 0 | 1 |
| xtr0yan | 0 | 1 |
| yaiza_hs | 0 | 1 |
| alexlosadac | 0 | 1 |
| streak_perico | 0 | 1 |
| rutruvideo | 0 | 1 |
| shelji | 0 | 1 |
| whackyprozac24 | 0 | 1 |