Everyone knows the joys that come with streaming. If 2020 taught us anything, it's that going live to your friends, fans and viewers can provide a one-of-a-kind way to truly feel connected.
But behind the scenes, creators can take a big hit in their mental well-being and fall into very hard times. The pressure of creating more content, going that extra mile and grinding that bit longer can easily overcome the positive feelings that come with livestreaming. We've heard far too many stories of obssessing over numbers, self-criticism and increasing limits that streamers push themselves to. Anxiety, depression, impostor syndrome are real. The path to turning your content into a career is long and full of hurdles, and some of them hide beneath the surface of a smile.
At Streamloots, we're committed to honor the autonomy and entrepreneurial spirit of streamers. There's much more to empowering streamers into developing their business than just promoting their financial revenues. We want to support creators throughout their journey. We want to be there for you, every step of the way.
With Streamloots Strong we are leveling up in this commitment: A project destined to help break the stigma around mental health and make it more accessible for streamers.
We listen to you, and we understand this is essential for your development. We want to help you become the best version of yourself. We're with you.
The Well-Being Resource Center
We've partnered with Mxiety, a mental health advocate, writer and live talk show host, to bring you the Streamloots Well-Being Resource Center, a collection of materials destined to help you guide through the good and bad times. This is designed to help live streamers better understand what mental health is, how to deal with anxiety, burnout, depression, continuous comparison and more concepts that streamers go through in their online journey.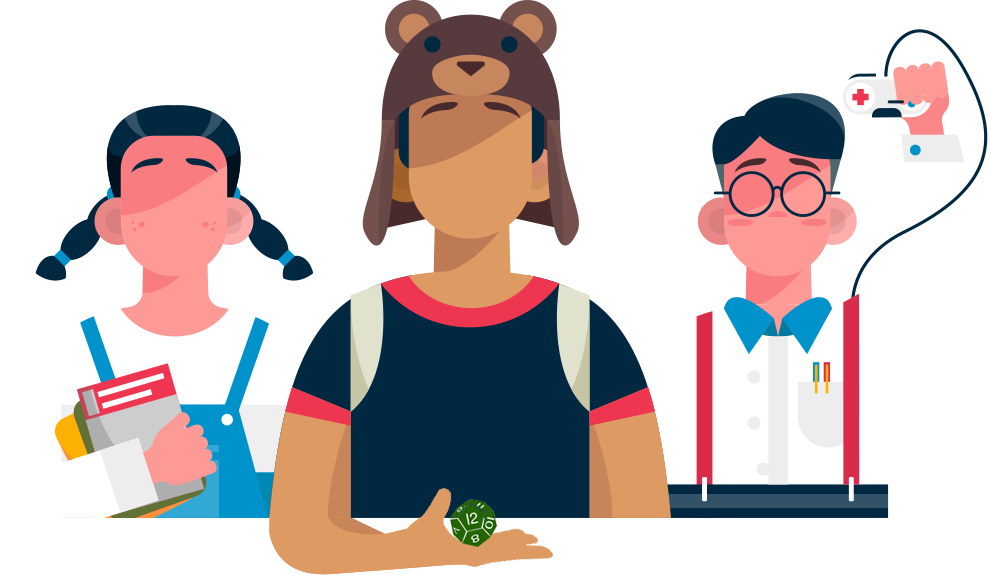 The Streamer Mental Health Kit
We've partnered with Geek Therapeutics to provide emotional and mental support to streamers. Geek Therapeutics designed a course with the tools to recognize when someone is in need and then provide them with the necessary mental health backup. All Streamloots affiliate streamers will get subsidized access to Geek Therapeutics' Streamer Mental Program, while all Streamloots Partners will be granted free access to the program.
25% DISCOUNT ON THE GEEK THERAPEUTICS PROGRAM
 for
STREAMLOOTS AFFILIATES
FREE ACCESS TO THE GEEK THERAPEUTICS PROGRAM
for
STREAMLOOTS PARTNERS
A message from Alberto, our CEO:
About Geek Therapeutics
Geek Therapeutics trains parents, students, clinicians, social workers, geek culture fans, and gamers on how to use Geek Therapy to unlock the best version of themselves and others. It bridges the gap between geeks and therapists with practical and innovative therapy sessions, using the psychology of geek cultural interests like video games, comic books, movies, tv shows, Dungeons and Dragons, anime, and more, to improve oneself and others around them.
The Streamer Mental Health Kit is a program specifically created for livestreamers to understand mental health, why their own mental health is important, and how they can help viewers understand themselves.
The streamer program currently has a total of more than four hours of video content and includes free mindfulness meditation videos as well. There are plans to add more content as the program expands and evolves as needs are identified.
About Dr. Anthony Bean – Founder
Dr. Anthony Bean is a Licensed Clinical Depth Psychologist, video game researcher, and the Executive Director at The Telos Project, a thriving nonprofit mental health clinic in Fort Worth, Texas which focuses on video gamers and their families.
He has been consulted as an expert for CNN, Inverse, Polygon, and internationally for Gehirn & Geist, while also appearing on Radio, Podcasts, and being a sought after Keynote Speaker and conference speaker in the United States, Canada, and Russia. He holds a Doctorate in Philosophy in Clinical Depth Psychology from Pacifica Graduate Institute and specializes in the therapeutic implications of video games and gaming, working with children and adolescents, and the use of video game character identification as a therapeutic technique.
He has also authored multiple academic articles, book chapters, and the two books Working with Video Gamers and Games in Therapy: A Clinician's Guide (Routledge, 2018) and The Psychology of Zelda: Linking Our World to the Legend of Zelda Series (Ben Bella, 2019) while being active on twitter (@VideoGameDoc).